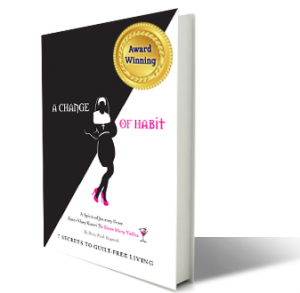 Life is too short to miss out.  Click here  to checkout Patty's Calendar of upcoming events for "A Change of Habit".
A Change of Habit is Kicking Up its Heels Across the World. Patty Ptak Kogutek has won numerous awards and has been honored as a Rising Star by Hay House Publishing. To read more click here…
From time to time I find other authors that I feel you might find a connection with. Click here to see what I have been reading.
A Change of Habit recounts a spiritual journey that started when a religious eddy hurls seventeen-year-old Patty into a convent in the 1960s. Her deeply embedded guilt drives her to obey the Catholic Church, please her earthly father, and say yes to her heavenly Father. But in the convent, she fails to find happiness…

Click here for Patty Ptak Kogutek's interviews on TV, Radio and Magazine…
Do you want to get rid of guilt once and for all?
How does guilt affect your business?
Who does guilt affect most:  men or women?
These and other questions I discussed with Dana Wilde on her radio show, The Mind Aware Show that airs on the Wall Street Business Radio Network. Click here to listen to my interview with Dana Wilde.