Free Articles
These articles can also be found on Huffington Post, SmartFem and Montana Woman

A Change of Habit
"These "7 Secrets" gave me the insight, courage and permission to follow my heart, instead of merely following the rules of the institution. I learned each one through different phases of my life. I share them to support people who find themselves bound by ties of others' expectations and religious rules to help them not to worry about making the "right" decision…"
"Adversity becomes you, making you who you are, adding to your desirable qualities, building character."
"I've heard of the expression: "Let go, let God," and now I experienced it for myself. Throwing my hands up in the air in surrender, I celebrated knowing that I had "accidentally" stumbled on a "practice" that brought me inner peace and relationship…"
Can You Fast Forward Your Spiritual Development?

"We have flipped over the calendar page for the month of March, but is the Madness gone? For many, the madness dogs us into yet another month.  Do you feel like a circus performer, the woman balancing six twirling plates on sticks in the air?  Do you feel like one more "plate", and they'll all come tumbling down?  Do you ever feel like you've lost control of your life?  Read this!"
Did "March Madness" Follow You into April?
So let's look forward to these summer months, armed with these 3 "life saving" skills. Have a wonderful summer riding the beautiful waves enjoying your family, friends, and summer frivolity.
Don't Let the Summer Flux Drag You Under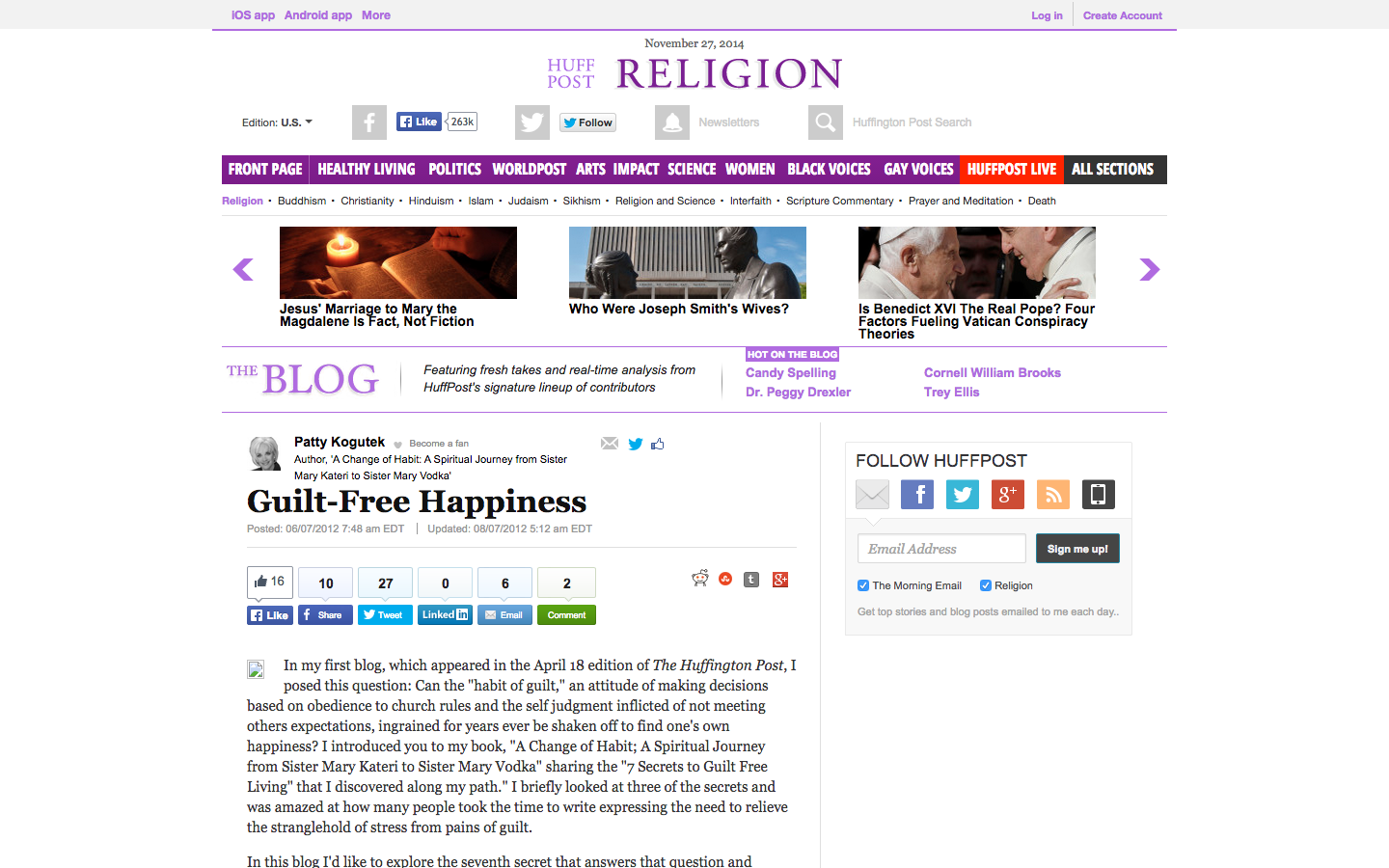 "It's all about the happiness! That happiness must be protected and can easily slip away eroded by pangs of guilt."
"By changing one little letter you can allow yourself more room for personal choice, removing the guilty feeling that accompanies those shoulds. "
Four Ways to Enjoy a Guilt Free Holiday Season
"I'd argue that isn't our human nature, but our divine nature. Maybe God allows these tragedies to give us opportunities to practice LOVE. Do we need such a jolt? We are part of the WHOLE — part of the ONENESS. Love is at our very core, binding us together. "
"I'm more of a cafeteria Catholic. The pope probably wouldn't consider me a strict Catholic. I am more spiritual than religious,"
"When do we say we are good enough, smart enough, successful enough and happy just happy the way we are."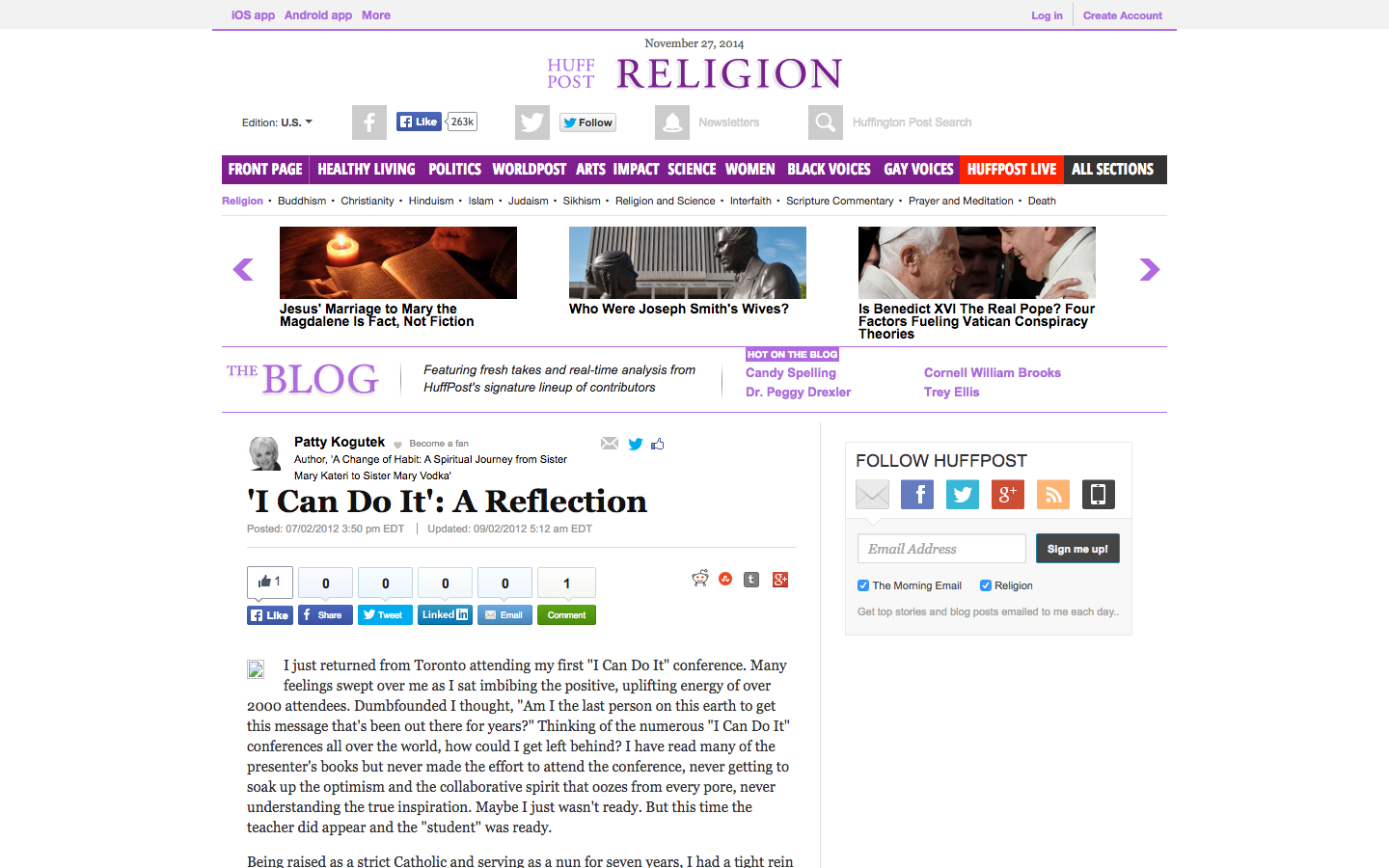 "Being raised as a strict Catholic and serving as a nun for seven years, I had a tight rein on my religious beliefs guarding against any heresy. I would read books that I regarded as "out there," or "new age" with what I thought was a feel good, watered down message."
"I believe that in this "School of Life" we are here to learn lessons. There are many life lessons for us to embrace before we "graduate." This is precisely why we signed on for this earthly journey."
"The fear of failure has been conquered. The competitors not only fly through the air recording breaking speeds and hurl their bodies performing dangerous feats causing me to gasp for breath, but these young men and women teach us so many valuable lessons. "
Lessons for Spiritual Development Learned From the Olympics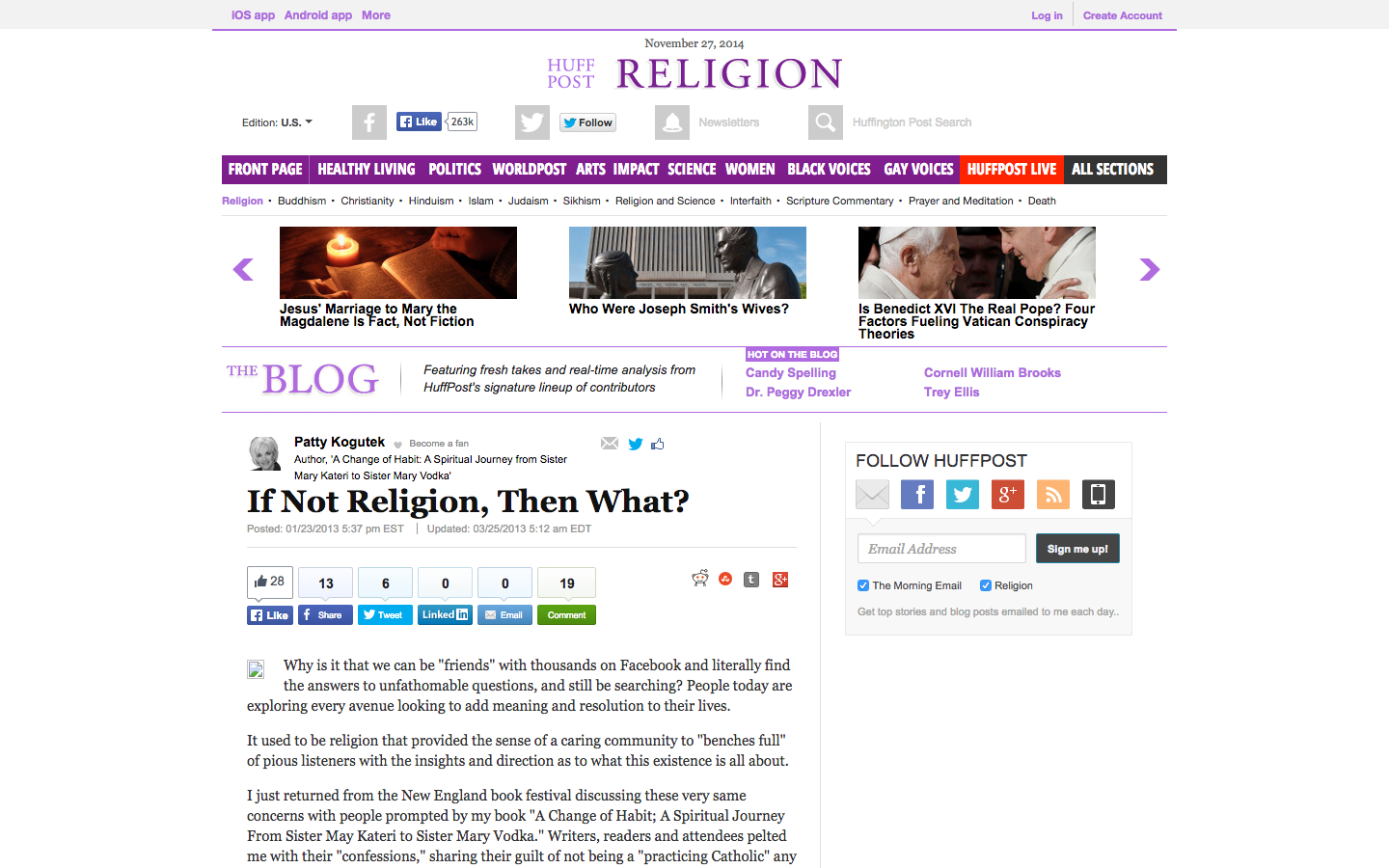 "We find our true sense of purpose through our experiences. We discover information and inspiration. We can no longer look solely to religion for understanding and explanations."
"In reality, false expectations can get us in big trouble. Looking for the ideal can break our hearts and kill our hope, not to mention throwing pangs of guilt our way for not meeting our expectations and not honoring our commitment."
"I was taught (many years ago) that there is one true Church and following those rites, rituals and rules of the Catholic Church would lead me to heaven. Many of us embraced that thinking, but in practicality it has not served us. Many struggle searching to find more meaningful expressions of our true spiritual beliefs."
Spiritual Awareness Dawns in the Vatican
"Bedecked and bejeweled in the recognizable robes of leadership the Catholic Hierarchy stands in the field searching for their "flock". Where are the faithful sheep that have trailed in their footsteps seeking discipleship, direction, and discernment over the years? "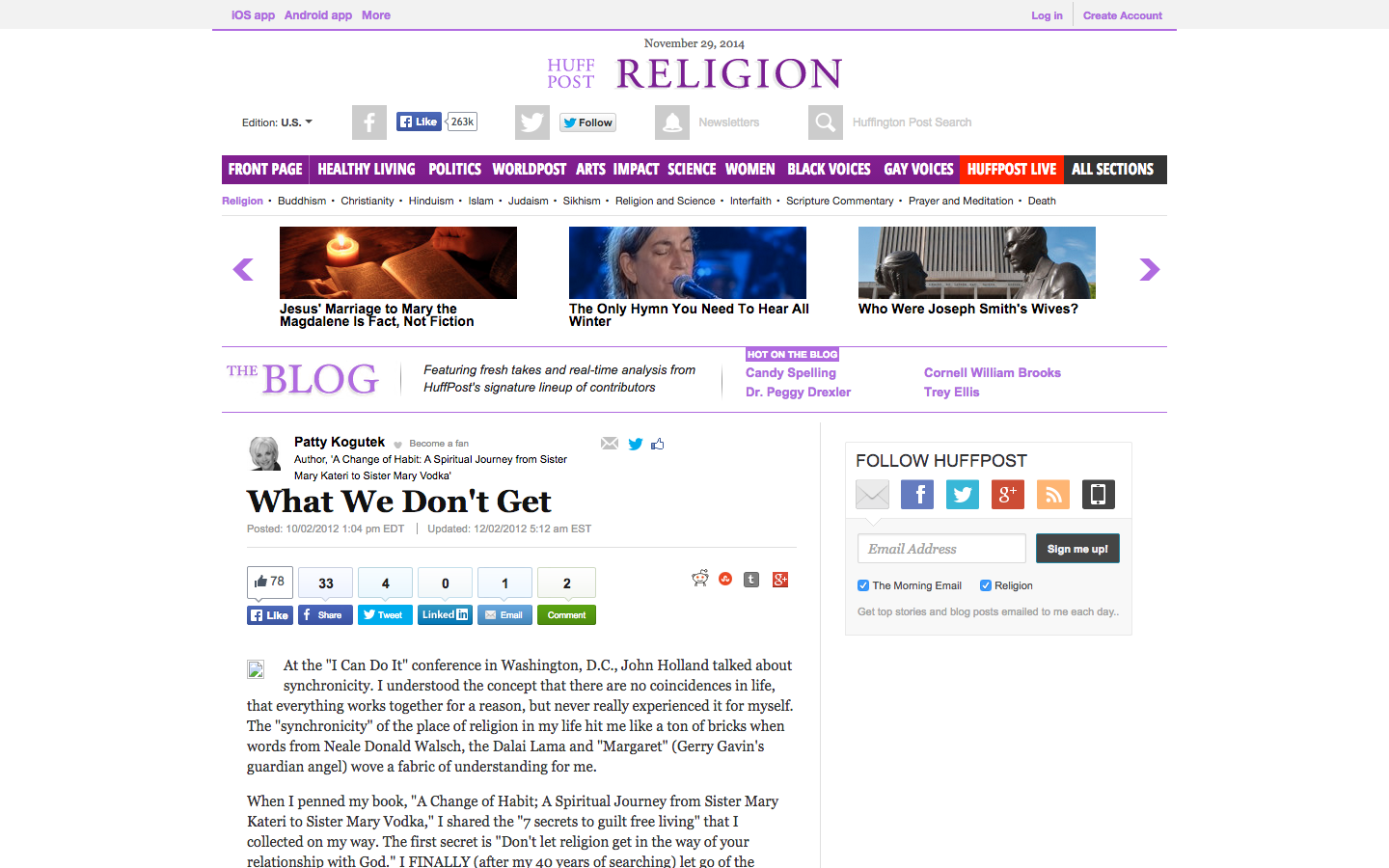 "We are not only brothers and sisters together on this planet sharing time and space together, but we are indeed brothers and sisters at a DNA level. We are indeed ONE. That concept really moves the paradigm."